You are here

The Cleanest Estate Ever
The Cleanest Estate Ever
Submitted by Concierge Financial Planning, LLC on December 10th, 2015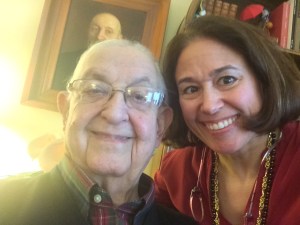 "How can I make my estate easy for my son?" asked Diane, a youthful retired client with a penchant for planning ahead. I often get this question in some form or another and usually provide advice on the industry best practices based on my history and research. This time was different, however, as I had even more first-hand experience.
I recently witnessed the cleanest estate I have ever seen. Unfortunately, this was my father's estate. He passed away November 22nd at age 87. I don't think he'd mind being the subject of this blog since he participated in its writing many times in the past. Click here to read about how he put himself in a "nursing home" and click here to read about his "mid life" crisis at age 85.
My dad was the most generous man I ever met. He was always giving, giving, and giving. He adored his family and gave us gifts to show his affection. In addition, he spent a career as a retail executive, specializing in; you guessed it, gift shops. As a result, gifting and giving were almost a profession to him, not just a personal passion. There didn't seem to be enough natural occasions in a calendar year for my dad, so he would make them up. Birthdays often came with pre-gifts as warm ups before the actual day.
When my dad died, I realized that he continued giving right up to the end. You see he had researched, planned, and executed an almost frictionless estate plan—meaning my brothers and I had the "gift" of not having to labor over a cumbersome process at a difficult time. Dad had supported both his parents and his in-laws and he was determined not to be a burden to his children. He can rest easy knowing he never was. (I really think it was the other way around!)
My Dad did 5 things that made settling his estate a breeze. In fact, there was no probate!
1/ Dad consolidated all of his accounts. When he passed away he had one IRA, one taxable account, and one checking account. The investment accounts were at one institution. There were no lingering 401ks. No one-off mutual funds.
2/ Dad specifically named beneficiaries to his IRA. He had 1/3 going to each of his three children. His investment and bank accounts were TOD, transfer on death. He specifically named his three children, one third each.
3/ I have to admit that Dad didn't own a property, which is why probate was completely unnecessary. He lived in a CCRC (Continuing Care Retirement Community). Upon death his heirs were to receive his initial deposit, which he had specified in writing would go in equal thirds to his three children.
4/ Before his death Dad met with the local funeral home and made and paid for his burial arrangements. He even went as far as writing his own obituary! There was no arguing over what Dad would have wanted. There was no imposition of our own needs on the proceedings.
5/ Dad openly discussed his final plan with his children. Despite the fact that none of us wanted to discuss his demise, Dad insisted on sharing his will and desires. We knew exactly what he wanted.
While not a financial matter, Dad also gave us a gift by being very clear with his doctors on his final wishes, including a DNR (do not resuscitate.) While it was very hard to suppress the impulse to rush him to the hospital when his temperature and blood pressure dropped, we all knew exactly what dad wanted. He had lost mobility and quality of life and subsequently discontinued all medications and treatments save those that made him comfortable. Dad always wanted to die in his sleep. He was a joker and right up to the end and would say, "The only problem with going to bed at night is that I wake up in the morning!" In the end he got exactly what he wanted. His obituary said that he had lived a wonderful, long life with no regrets. And, that was the best gift of all.