You are here

Retirement Mexican Style: A Unique Twist on Familial Care-giving
Retirement Mexican Style: A Unique Twist on Familial Care-giving
Submitted by Concierge Financial Planning, LLC on October 4th, 2016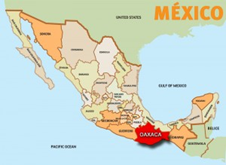 "They don't think too much about money because nobody ever has any," said my son, Peter, when I asked him about Mexicans' attitudes toward wealth. I am interested in how other cultures think about income and retirement and Peter was becoming a good source of information. He was home on vacation from Oaxaca (Wa-hock-a), Mexico where he teaches English at a university in the Sierra Juárez mountains. "Mexicans work until they fall in the grave." "But, what about when they are too old and frail to work," I continued," What happens then?"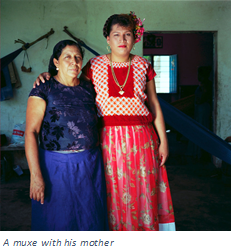 "Well, some Zapotec families have muxes (moo-shays). I've seen them on the coast." I was completely unprepared for the answer I got when I asked, "What's a muxe?" Peter explained that sometimes the youngest son in indigenous Zapotec families is raised as girl, and expected to take on the role of the caregiver to his aging parents. A well-known muxe was quoted as saying, "Sons and daughters marry and leave home, but a muxe takes care of his parents." Muxes are accepted as part of the community, recognized as a third gender, and are celebrated in Zapotec culture.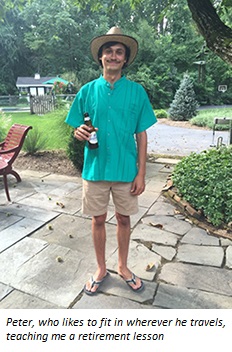 "Mom, not every culture thinks of everything in financial terms. In places where mass affluence isn't present, people develop other solutions to life's predicaments." This was not the first time my son taught me a life lesson. Wow. According to the New York Times, anthropologists believe that the acceptance of people of mixed gender stems from the celebration of Aztec priests and Mayan gods who cross-dressed and had both male and female attributes. Muxe's start their training in their tween years and are taught how to behave, dress, and work like women by family and friends
Who am I to judge? As far-fetched as the muxe idea sound to me, I'm sure the concept of saving millions of dollars for a modern American retirement would be implausible for most Oaxacans. On a positive note, at least they are planning for their future and not burying their heads in the sand. They are utilizing methods that have worked for hundreds of years. We certainly can't say the same.
While I am saving for retirement like everyone else here in the USA, I am also secretly hoping that my son will absorb some of the Oaxacan attitude towards their elders. I certainly won't mind if he wants to dote on me in my old age!