You are here

Start Small to Retire Big
Start Small to Retire Big
Submitted by Concierge Financial Planning, LLC on December 9th, 2017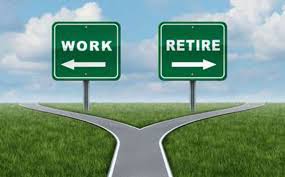 "I'll never retire," Jack said with exasperation. While I usually work with folks close to retirement age, Jack and his wife, Celia, were 16 years away. The good news is that they were focused on retirement and had saved regularly for the first 23 years of their working careers. When they came to me, Jack was particularly frustrated; after all those years of savings, he and Celia had achieved just 25% of their target—or so they thought.
Jack was making a classic mistake. They wanted to save $1MM and had managed to put away just $250K. On the face of it, his logic was irrefutable, $250K is 25% of $1MM. This is hardly the news one wants to hear after scrimping and saving for 23 years. Celia, while less animated, was also wondering why she was giving up a significant percentage of her income to retirement savings. The money they put away put a large dent in their take-home family income and they were also paying down their mortgage and saving for their kids' college educations.
I was happy to be able to tell Celia that her sacrifices were not only reasonable, but essential ingredients in a happy retirement. I was even able to calm Jack down!
Jack and Celia failed to consider the fact that retirement savings grow disproportionately over the years due to the power of compounding. Even with consistent investment returns, during the early years relatively modest balances deliver proportionately modest real returns. Later in the cycle, with larger balances, this same rate of return delivers much more real cash.
The good news is that, while it had taken Jack and Celia 23 years to save the first 25% of their goal, it would only take eight more years to reach the 50% mark. From there it will be 5 years before they are 75% funded. Three years after that they will be at 100%. While being just 25% funded after 23 years can feel demoralizing, the truth is that Jack and Celia are right on track.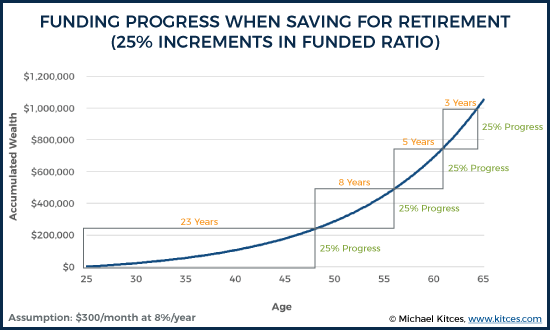 Jack and Celia may have found it more satisfying to compare their current level of savings to the present value of their $1,000,000 goal—as this accounts for their future savings and market growth. The present value of $1,000,000 in sixteen years' time, assuming monthly compounding, monthly savings of $300, and an 8% return, is approximately $247,000—Jack and Celia were slightly ahead of schedule with their $250,000 in savings!
Not only is this good news for Jack and Celia, but also for those of us who, like me, are aiming for that last 25%!
With thanks to my source, Michael Kitces, https://www.kitces.com/blog/funded-ratio-for-individual-retirement-savings-goals/