Submitted by Concierge Financial Planning, LLC on October 16th, 2015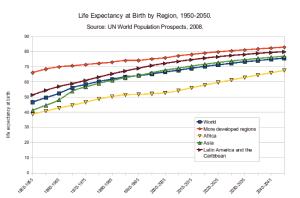 How long are you and I going to live? None of us knows, of course, but this number is important for a variety of planning issues—including, of course, how long your money will have to last in retirement. Actuarial tables tell us how long people will live on average, but that isn't much help for planning a specific person's life, and the averages conceal a lot of variation.
Living today is a huge advantage over living in the past, and living in a developed nation is a benefit as well. As you can see from the chart, most children born in the late 1700s had a life expectancy below age 35; today, the global average is 70, and people who make it to age 65 have a good chance of living to 85 or longer.