Submitted by Concierge Financial Planning, LLC on September 30th, 2012
Lessons learned in an investment club can yield significant returns in profit, education, and fun.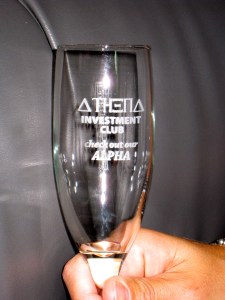 Up 10.8% since inception! At a recent meeting the twelve members of the New Jersey based Athena Investment Club admired their portfolio returns over a glass of wine. The etching on their glasses read, "Athena Investment Club: Check Out Our Alpha!" In the three plus years since club formation, their portfolio's risk adjusted returns have consistently outperformed the market. Was this a group of financial professionals? Wall Street executives? MFP Global employees?